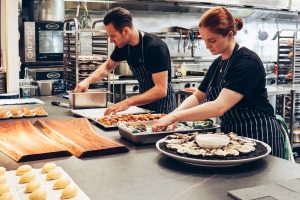 The slow pace of Canada's economic growth has made it difficult for business owners, particularly those in the tourism industry, to find the workers they require.
Sean Fraser, Minister of Immigration, Refugees, and Citizenship, and Randy Boissonnault, Minister of Tourism and Associate Minister of Finance, announced that Canada is extending work permits to family members of temporary foreign workers. Extending work permit eligibility to family members supporting the principal applicant to Canada will help address labor shortages by aiding employers in finding the workers they require.
What Are the Changes to Work Permit Eligibility?
Prior to this announcement, spouses could only obtain a work permit if the primary applicant worked in a high-skilled occupation. By keeping families together, this temporary measure aims to improve workers' emotional well-being, overall health, and economic stability. As a result, the worker is expected to integrate better into their overall work community and environment.
Starting in January 2023, Canada will broaden eligibility to work in Canada to spouses and working-age children through a phased approach for workers of all skill levels through a temporary 2-year measure. Families of workers in health care, trades, and hospitality, for example, would be included. It is estimated that as a result of this new approach, family members of more than 200,000 foreign workers could start work in Canada, providing more opportunities for both foreign workers looking to work in Canada and employers addressing their labor needs.
3 Phases to Ensure Success
To ensure its success, the temporary measure will be implemented in three stages, according to the official website of Immigration, Refugees, and Citizenship Canada (IRCC):
Phase 1: Family members of workers coming to Canada through the high-wage stream of the Temporary Foreign Worker Program or the International Mobility Program will be able to apply for an open work permit.
Phase 2: Following consultations, phase 2 intends to extend the measure to family members of workers from the Temporary Foreign Worker Program's low-wage stream.
Phase 3: This will involve consultation with agricultural partners and stakeholders to determine the operational feasibility of extending the measure to agricultural workers' families.
Immigration will continue to play an important role in addressing Canada's labor shortages, and the government will continue to implement policies to assist employers with their hiring needs at all skill levels.
Do You Have Questions About the Changes to Work Permits for Family Members of Temporary Foreign Workers?
If so, Contact VisaPlace today. All our cases are handled by competent and experienced immigration professionals who are affiliated with VisaPlace. These professionals consist of lawyers, licensed paralegals, and consultants who work for VisaPlace Legal, an award-winning immigration firm that adheres to the highest standards of client service.
Ready for the next step? Book your 1-on-1 consultation now or call us at 1-888-317-5770.
Have a Question related to your Immigration Needs?
Fill out the FREE Immigration Assessment form and get a response within 24 hours to see if you're eligible.
The assessment form should take approximately 5-7 minutes to complete. We will get back to you within one business day to let you know if we are able to help.