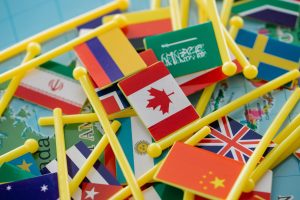 The number of asylum seekers entering Canada between structured border crossings has risen to its highest level since the government began tracking them in 2017, as pandemic restrictions are lifted, allowing for more travel, and conflict and disaster displace people in many parts of the world.
The increase in irregular entries coincides with Canada's preparation to defend the Safe Third Country Agreement with the United States, under which it turns back asylum-seekers attempting to cross at regular ports of entry.
As a result of this agreement, asylum seekers are able to cross between ports of entry and turn themselves into the police in order to pursue refugee claims. Canada is attempting to broaden the agreement so that it applies to the entire land border.
What Is the Cause of the Rise of Border-Crossings?
According to University of Ottawa immigration law professor Jamie Chai-Yun Liew, the influx could be due to pent-up demand after Canada lifted pandemic border restrictions last fall.
However, immigration experts say the rise is yet another indication that when countries like Canada and the United States erect barriers to orderly entry, displaced people will seek alternative routes.
If Canada does not want to deal with irregular border crossers, it should end the agreement that prevents them from entering through regular entry points, according to Janet Dench, executive director of the Canadian Council for Refugees, which is suing the Canadian government.
What Does This Mean for Future Asylum Seekers to Canada?
Asylum seekers in Canada can apply for protection once they arrive, and this loophole has pushed thousands of people to make sometimes perilous journeys across the 6,416km (3,987-mile) US-Canada land border in recent years.
On October 6, Canada's Supreme Court heard a legal challenge to the STCA.
They have claimed that the United States is not a safe haven for refugees and that the agreement violates both Canada's constitution, known as the Canadian Charter of Rights and Freedoms, and international law. Rights advocates also claimed that it endangers asylum seekers by forcing them to embark on more dangerous journeys to cross the border.
Despite this, successive Canadian governments have insisted that the United States is a safe haven for refugees, with a robust asylum system. The STCA "has served Canada well," according to Immigration, Refugees, and Citizenship Canada, a federal ministry, last year.
Do You Need Help Seeking Asylum in Canada?
If so, Contact VisaPlace today. All our cases are handled by competent and experienced immigration professionals who are affiliated with VisaPlace. These professionals consist of lawyers, licensed paralegals, and consultants who work for VisaPlace Legal, an award-winning immigration firm that adheres to the highest standards of client service.
Ready for the next step? Book your 1-on-1 consultation now or call us at 1-888-317-5770.
Have a Question related to your Immigration Needs?
Fill out the FREE Immigration Assessment form and get a response within 24 hours to see if you're eligible.
The assessment form should take approximately 5-7 minutes to complete. We will get back to you within one business day to let you know if we are able to help.