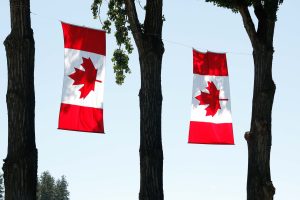 In the year 2022, many significant immigration changes occurred in Canada. We have seen a growth of visas being applied for following the pandemic, and Canadian immigration is vastly increasing. Canada has welcomed a record number of immigrants in 2022!
The most significant events in Canadian immigration in the last year are discussed below.
Canadian Visa Changes and New Programs 2022
Express Entry Draws
Up until July 6, 2022, all of the Express Entry draws in 2022 had been Provincial Nominee Program (PNP) draws. After July 6, all draws have been all program draws, meaning they include CEC, FSW, and PNP draws.
There have been a total of 24 Express Entry draws in 2022, the last draw taking place on November 23rd. The CRS cut-off score started high in the beginning of the year at 808 but steadily declined each draw with the latest score being 491. As the CRS score declined, the number of invitations issued grew.
Learn more about Canada's 2022 Express Entry draws.
Alberta Launches New Foreign Tech Worker Stream
In January 2022, Alberta saw a significant tech worker shortage. In response, The province announced the development of the Accelerated Tech Pathway, which gives highly talented tech workers who wish to live and work in Alberta a fast road to permanent residency.
Learn more about Alberta's foreign tech worker stream.
New Atlantic Immigration Program Launch
On March 4th, the Government of Canada released details about the newest Atlantic Immigration Program (AIP) launch. Formally known as the Atlantic Immigration Pilot Program (AIPP), this pathway gives skilled foreign workers and international graduates the opportunity to gain Canada PR.
Canada announced the new permanent Atlantic Immigration Program, recognizing the need to build on this success as the country continues to recover from the pandemic and address labor shortages across Atlantic Canada.
Learn more about the new Atlantic Immigration Program launch.
Saskatchewan Launches New Immigration Pathway for Tech Workers
On March 7, 2022, Saskatchewan launched a new tech-immigration program. This program joined the other streams created for skilled workers, experienced professionals, and entrepreneurs but specifically targets foreign tech workers.
The Tech Talent Pathway was created to fill the labor shortages within particular occupations within Canada's rapidly growing tech sector.
Learn more about Saskatchewan's new Immigration Pathway for tech workers.
New Occupation Categories through Express Entry
With a lot of industries experiencing labor shortages country-wide, the IRCC has added 16 occupations that are now eligible through Express Entry through the NOC code update. This will open doors for many foreign workers interested in immigrating to Canada and some of those who are working entry-level jobs.
Learn more about the new occupation categories through Express Entry.
Canada Increases Immigration Fees
On April 30, 2022, Canada increased immigration fees for all permanent residency applications. These fee hikes were implemented for the economic, permit holder, family, and humanitarian categories. This is mainly due to costs to account for inflation in 2020.
Learn more about changes to Canada's immigration fees.
Canada Increases Length of Stay for Parents and Grandparents Super Visa Holders
As of July 4, 2022, the length of stay for Super Visa holders in Canada will be expanded to five years per entrance.
People who presently hold a Super Visa can also obtain an extension of up to two years while in Canada. This implies that existing Super Visa holders can now stay in Canada for up to seven years in a row.
Learn more about the changes to Canada's parents and grandparents super visa.
Canada Looks to Fix Immigration Backlog
On August 24, Canada's Minister of Immigration spoke in Vancouver on IRCC's ongoing efforts to minimize application backlogs, enhance client satisfaction, and solve labor shortages.
Learn more on updates about Canada's immigration backlog.
Permanent Residency Program for Relatives of Victims of Air Disasters
Families of the Canadian victims of Ethiopian Airlines Flight 302 and Ukraine International Airlines Flight 752 can now apply for permanent residency through a new program established by Immigration, Refugees and Citizenship Canada (IRCC).
Learn more about the new PR pathway for victims of air disasters.
What to Expect for Canadian Immigration 2023
Canada has announced plans to significantly increase the number of immigrants entering the country, with a goal of 500,000 arriving each year by 2025 in order to address a critical labor shortage. According to the new plan, 465,000 people will enter the country from outside the country in 2023, rising to 500,000 in 2025.
Express Entry and PNP targets are also expected to increase in 2023.