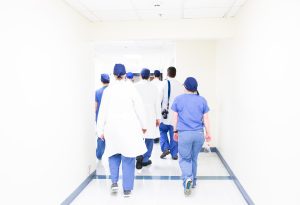 Canada has announced a $1.5 million investment to assist foreign-trained health care workers in obtaining credential recognition.
The funding, announced on Monday by Marie-France Lalonde, Parliamentary Secretary to Immigration Minister Sean Fraser, will assist professionals educated abroad in filling key positions in Canada's health-care system in provinces other than Quebec.
What Does This New Project Aim to Do?
This expanded project will assist internationally educated healthcare professionals in filling important positions in the healthcare labor market. It will also allow N4 to serve as a resource for foreign newcomers and internationally educated health care professionals to learn about foreign qualifications and credential recognition in all provinces and territories other than Quebec.
In addition, the project will:
identify the barriers that internationally educated healthcare professionals face in getting their foreign skills and credentials in Canada
provide effective policy suggestions for addressing sector gaps
assist internationally educated health care professionals in meeting credential and qualification specifications more quickly
remove obstacles to Canada's healthcare employment system
Eligible Healthcare Programs in 2022
PNP for Canada's Healthcare Professionals
Provinces can nominate qualified healthcare applicants through the Provincial Nominee Program (PNP). Some PNPs are particularly for health care professionals, whereas others have more broad professional experience specifications but may hold immigration nomination draws targeting candidates in the field.
Several provinces have more than one program that embraces health care professionals. PNPs may nominate people from the Express Entry system and invite them to apply for a provincial nomination. If these candidates are nominated, 600 CRS points are added to their Express Entry score. This grant is more than adequate to allow the applicant to be invited to apply for permanent residence.
The PNP pathways for healthcare professionals in Canada include:
British Columbia: Under its Skills Immigration and Express Entry pathways, British Columbia provides a Health Care Professional category.
New Brunswick: New Brunswick offers a program called Internationally Educated Nurses (IEN) which provides a path for foreign nurses who can communicate in English or French.
Nova Scotia: The Labour Market Priorities Stream of Nova Scotia occasionally holds draws in which healthcare workers are invited to apply for a provincial nominee program.
Ontario: Ontario welcomes healthcare workers to apply through its Human Capital Priorities Stream.
Saskatchewan: A program specifically for healthcare professionals was recently launched by Saskatchewan called the International Healthcare Worker EOI pool.
Express Entry Program for Canada's Healthcare Professionals
Professionals in the health care field may be qualified to apply for the Federal Skilled Worker Program (FSWP) and the Canadian Experience Class (CEC). The Express Entry system manages these two federal immigration programs.
Express Entry is a federal government online system for processing immigration applications. It ranks qualified applicants based on their skilled work experience, age, education, and official language ability, among other factors, using the Comprehensive Ranking System (CRS). In biweekly Express Entry draws, the top-scoring candidates are invited to apply for permanent residency.
Even though CEC and FSWP candidate draws were halted during the pandemic, Minister Fraser previously stated that they would resume in early July. In addition, the minister stated that the processing time for new Express Entry applicants would be reduced to six months.
Quebec's Program for Canada's Healthcare Professionals
Quebec has its own system of immigration. Certain programs, such as the PNP and Express Entry, do not exist in Quebec.
Quebec has two programs for skilled workers: the Regular Skilled Worker Program and the Quebec Experience Program. Both of these programs may be available to healthcare workers. Candidates for both of these programs must have a basic understanding of the French language.
Caregiver Pilot Programs for Healthcare Workers
Caregivers who have an offer of employment in one of the two eligible professions and meet the other eligibility requirements may be able to apply for permanent residency through the Home Child Care Provider Pilot or Home Support Worker Pilot. Work experience must be classified as 4411 or 4412 in the National Occupational Classification (NOC).
Candidates can obtain an open work permit to come to Canada and work temporarily through these pilot programs.
Are You Interested in Working in Canada as a Healthcare Worker?
If so, Contact VisaPlace today. All our cases are handled by competent and experienced immigration professionals who are affiliated with VisaPlace. These professionals consist of lawyers, licensed paralegals, and consultants who work for VisaPlace Legal, an award-winning immigration firm that adheres to the highest standards of client service.
Ready for the next step? Book your 1-on-1 consultation now or call us at 1-888-317-5770.
Have a Question related to your Immigration Needs?
Fill out the FREE Immigration Assessment form and get a response within 24 hours to see if you're eligible.
The assessment form should take approximately 5-7 minutes to complete. We will get back to you within one business day to let you know if we are able to help.