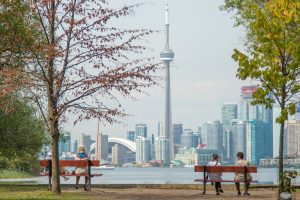 Canada has announced plans to significantly increase the number of immigrants entering the country, with a goal of 500,000 arriving each year by 2025 in order to address a critical labor shortage.
On Tuesday, Immigration Minister Sean Fraser unveiled the new plan. It prioritizes admitting more permanent residents with needed work skills and experience while setting more modest goals for family members and refugees. The plan was welcomed by the opposition Conservative Party.
"Make no mistake. This is a massive increase in economic migration to Canada," Fraser said. "We have not seen such a focus on economic migration as we've seen in this immigration levels plan."
According to the new plan, 465,000 people will enter the country from outside the country in 2023, rising to 500,000 in 2025. In comparison, the Department of Immigration reports that 405,000 permanent residents were admitted last year.
The majority of those new arrivals will be economic immigrants, who will be expected to fill some of the roughly 1 million vacant jobs in various sectors of the economy.
Express Entry and PNP Targets Expected to Increase
The majority of new permanent residents enter the country through economic class programs such as Express Entry or Provincial Nomination Programs (PNPs).
The Express Entry landing targets (principal applicants, spouses, and dependents) are expected to increase as follows:
82,880 in 2023
109,020 in 2024
114,000 in 2025
The PNP will continue to be Canada's leading admissions program for low-income immigrants, and targets will be increased to:
105,500  in 2023
110,000 in 2024
117,500 in 2025
More PGP Admissions
IRCC is also tasked with reuniting families. Following economic class programs, family class sponsorship is the Immigration Levels Plan's second-largest permanent residence class. Applicants for permanent residence are sponsored for permanent residence by a spouse, partner, children, or other family members under family class immigration programs.
Under the Spouses, Partners, and Children program, Canada will continue to welcome approximately 80,000 new immigrants annually.
The Parents and Grandparents Program's goals will rise to 28,500 in 2023, 34,000 in 2024, and 36,000 in 2025.
Refugee and Humanitarian Targets Will Be Reduced
Refugees and humanitarian immigrants are also given priority under the Immigration Levels Plan. Canada has a long history of granting asylum to people fleeing dangerous situations in their home countries.
Canada currently has high humanitarian class targets due to ongoing efforts to complete several campaigns, such as welcoming approximately 40,000 Afghan refugees.
The overall refugee class target will be slightly more than 76,000 new arrivals in 2023 and 2024, before falling to 72,750 in 2025.
The humanitarian class target is also decreasing, from nearly 16,000 in 2023 to 8,000 in 2025.
Are You Interested in Immigrating to Canada?
If so, Contact VisaPlace today. All our cases are handled by competent and experienced immigration professionals who are affiliated with VisaPlace. These professionals consist of lawyers, licensed paralegals, and consultants who work for VisaPlace Legal, an award-winning immigration firm that adheres to the highest standards of client service.
Ready for the next step? Book your 1-on-1 consultation now or call us at 1-888-317-5770.
Have a Question related to your Immigration Needs?
Fill out the FREE Immigration Assessment form and get a response within 24 hours to see if you're eligible.
The assessment form should take approximately 5-7 minutes to complete. We will get back to you within one business day to let you know if we are able to help.