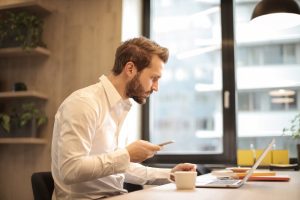 Recently, VisaPlace hosted a Facebook Live with Fadi Manawi, a US attorney with VisaPlace Legal, and Marianella Mansour, the Partner and Director of Sales and Marketing at Joorney Business Plans. They discuss the importance of business plans in US visa applications and the key components that are needed for a successful business plan. Marianella explains that their team communicates with the immigration lawyer throughout the process to ensure the business plan meets the lawyer's strategy for the case. They also discuss the fees that clients can anticipate for business plans, which can vary depending on the type of visa application.
What Are the Fees for US Business Immigration?
Fadi and Marianella also discuss the fees and turnaround time for obtaining a business plan for immigration purposes. The fees are transparent and listed on the website, with flat fees ranging from $1650 to $4000 depending on the type of Visa (E2, L1 or EB5). The turnaround time is between 7-10 business days for a first draft, with unlimited revisions until the final draft is approved. The company prides itself on quick turnaround times due to its large team of 150 employees and 60 writers. Market analysis is conducted using sources such as Ibis World and Statista, and the information is kept up to date.
What Are the Components for Starting a Business Plan for Each Visa?
There are different components of a business plan for each different type of visa. For an E2 visa, the structure of the business plan is similar to a regular business plan but has specific sections required by immigration. For an L1 visa, the fundamental elements of the business plan are describing the relationship between the parent company and the US company, how the parent company will support the US company during its growth, and arguing that the applicant is an executive abroad and will continue to be an executive in the US. The eb5 visa business plan is the most comprehensive and needs to demonstrate the potential of the new commercial enterprise to create jobs, show the source of funds, and include very detailed financials.
Joorney is industry agnostic and can do business plans for any industry or business model. The three main things that set Joorney apart from other business plan writing service providers are responsiveness, quality, and customer service. They pride themselves on being the fastest in replying to customers, delivering high-quality plans, and providing excellent customer service.
Is It Necessary to Start the Business Plan During the Visa Process?
Usually, yes. A business plan is usually provided in the initial list of documents required for the application and is considered essential for many Visa applications. Joorney emphasizes the significance of having a well-thought-out business plan and recommends starting the process early. They suggest that their team can provide a quick turnaround time for creating a business plan.
Is Investing In Real Estate Enough to Apply for an E2 Visa?
In order to obtain an E2 Visa, there are three requirements that must be met: a substantial investment, the investment must be at risk, and the business must not be marginal. For real estate investments, it may be difficult to meet these requirements if the investment is only in a single property. However, if the investor has multiple properties or a complex that requires employees to manage, it may be possible to meet the requirements.
Can I Get an E2 Visa for My Consulting Company?
Fadi and Marienella also discuss consulting companies, which can be tricky because they may not require a large initial investment. However, in order to qualify for an E2 Visa, the investment must still be proportional to the nature of the business. They recommend showing a roughly $50,000 investment in a consulting business to meet this requirement. We advise those interested in obtaining an E2 Visa to contact us for help in running through scenarios to see if it is possible to qualify.
Do You Need Help Immigrating to the US with a Business Visa?
If so, Contact VisaPlace today. All our cases are handled by competent and experienced immigration professionals who are affiliated with VisaPlace. These professionals consist of lawyers, licensed paralegals, and consultants who work for VisaPlace Legal, an award-winning immigration firm that adheres to the highest standards of client service.
Ready for the next step? Book your 1 on 1 consultation now or call us at 1-888-317-5770.
Have a Question related to your Immigration Needs?
Fill out the FREE Immigration Assessment form and get a response within 24 hours to see if you're eligible.
The assessment form should take approximately 5-7 minutes to complete. We will get back to you within one business day to let you know if we can help.