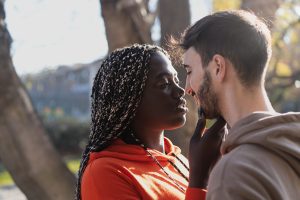 Thousands of couples in long-distance relationships abroad are taking advantage of the K-1 visa process to reunite with their significant other and live with them in the United States. This opportunity is HUGE for many individuals and following the steps correctly is vital to your success. Once you've been granted a K-1 visa, the process doesn't stop there and you will later need to adjust your status to a marriage-based green card. Here I've broken down the K-1 visa to Green Card process in 4 steps so you are more than prepared!
What is a K-1 Visa?
The K-1 visa, also known as the US Fiancé(e) visa, allows a United States citizen to sponsor his/her fiancé(e) to come to the US in order to get married. This option applies to a relationship in which one partner is living abroad and the couple is engaged to be married. If you are a US citizen interested in bringing your foreign partner to the United States in order to get married, you will need to file a Form I-129. This is the first step to obtaining a K-1 nonimmigrant visa!
K-1 Visa Interview
If you have been approved through the application portion of this visa process, you will be asked to attend a K-1 Visa immigration interview. The applicant will be notified about the interview date, time, and location and what supporting documents to bring. The notification is usually sent within 30 days of the application's approval, while the interview will generally take place four to six weeks after the embassy or consulate's initial notice. In this interview, the couple will be asked questions about themselves, their relationship with their fiance, and their intentions in the United States. Your goal will be to prove to the immigration officer that you are coming with true intent to live and reunite with the love of your life!
K-1 Visa Period of Stay
When granted a K-1 visa, you will be granted this status for 90 days before you MUST marry your fiance. This is something that you've agreed to already within the K-1 visa application process and marrying within 90 days is mandatory.
Can I Extend My K-1 Visa?
There is no way to extend your K-1 visa status because you MUST be married within 90 days followed by adjusting your status. Failure to marry within 90 days once you've arrived in the United States, your partner and their dependents (if any) will need to depart. Those who do not depart before their status expires may face deportation which could affect their future eligibility for US immigration benefits.
K-1 Visa to Green Card Process
Step 1: Petition for Fiance(e)
First, you will need to file a Form I-129 to petition for your fiance(e). The USCIS will then assess your forms and supporting documents coming to a decision. If approved, your application is sent to the DOS National Visa Center (NVC).
Step 2: K-1 Visa Interview
The NVC will then forward the approved Form I-129F to the US Embassy or consulate where your fiancé(e) will apply for a K-1 visa. From there your immigration interview will be scheduled and your fiance will need to attend which is usually in their home country!
Step 3: Port of Entry and Marriage
If the DOS issues the K-1 visa, your fiancé(e) can then travel to the United States and seeks admission at a US port of entry while the K-1 visa is valid. The USCIS points out that having a visa does not automatically guarantee admission to the United States as a CBP officer at the port of entry will make the ultimate decision. If granted entry, you and your fiancé(e) have 90 days to marry each other!
Related Article: Denied Entry at a US Airport
Step 4: Adjustment of Status
If you marry within 90 days, your fiancé(e) becomes your spouse and can now apply for a marriage-based Green Card by filing Form I-485, Application to Register Permanent Residence, or Adjust Status. The USCIS will review and may request additional evidence or information. You and your spouse will usually be required to appear for a Green Card interview!
Do You Need Help Adjusting Your K-1 Visa to Green Card?
If so, Contact VisaPlace today. All our cases are handled by competent and experienced immigration professionals who are affiliated with VisaPlace. These professionals consist of lawyers, licensed paralegals, and consultants who work for VisaPlace Legal, an award-winning immigration firm that adheres to the highest standards of client service.
Ready for the next step? Book your 1-on-1 consultation now or call us at 1-888-317-5770.
Have a Question related to your Immigration Needs?
Fill out the FREE Immigration Assessment form and get a response within 24 hours to see if you're eligible.
The assessment form should take approximately 5-7 minutes to complete. We will get back to you within one business day to let you know if we are able to help.